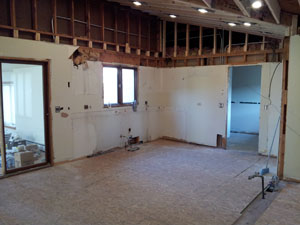 PROBLEM
When we bought our house, the interior was extremely old and outdated. Frankly, it was unsightly and an embarrassment. Right away, we started to renovate our interior kitchen and bathrooms. We started knocking down walls, opening up ceilings, and making rooms more open and spacious. Finally, we realized that we have very beautiful space, and a very oddly shaped kitchen. To our dismay, we realized that standard sized cabinets were simply not going to make our kitchen beautiful. What we really needed was something custom designed and built. After a long search for custom designed and built kitchen cabinets, our friends enthusiastically recommended Unimode Woodworking and Design Company. They were very pleased with their own project done by this company. So we contacted UniMode for help.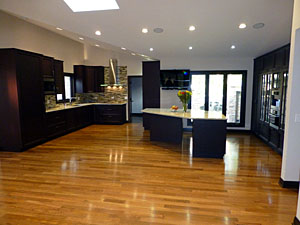 SOLUTION
UniMode rushed over the very next day to our house for a consultation. All we did is gave them a general idea what we want and what kind of appliances we will have. Then they went through the house with us wall by wall to see what could be done. They made many excellent and knowledgeable suggestions incorporating many modern and stylist features for improved and comfortable use. UniMode told us that the style and color we had in mind for our future kitchen cabinet doors would be no problem.
They quickly and accurately measured our existing walls and gathered all needed information. We were left with a confident feeling that they could design and build a high quality customized kitchen and two bathroom vanities that would enhance our home.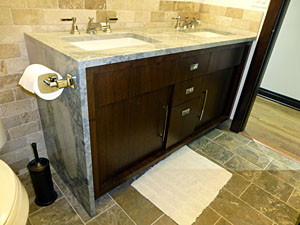 RESULT
UniMode expertly designed, handcrafted and installed our dream kitchen, along with our two bathroom's vanities and all needed accessories w The result was astonishing design beauty and top quality craftsmanship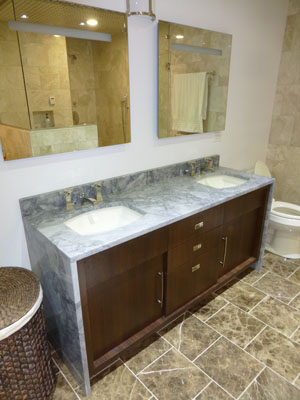 HAPPY CLIENT TESTIMONIAL
UniMode Woodworking and Design Company are extremely knowledgeable in every aspect of the custom woodworking industry.
They are able to furnish invaluable practical advice, such as how different kind of materials or exotic and non exotic woods will react to the weather and sunlight. Most importantly of all, they give you a confident feeling before they start your project and the result are literally beyond your imagination when they finish. When you want the finest quality custom designed woodwork, I highly recommend that you contact UniMode Woodworking and Design Company. You will be glad you did. I certainly was!
Andrew S.