FACTORY MADE VS. CUSTOM DESIGNED FURNITURE
Each customer has a clear choice when it comes to wood products: buy mediocre factory made or do custom-made.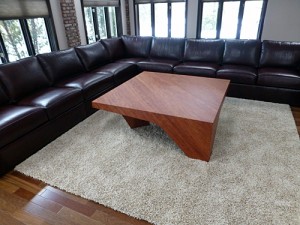 Custom products allow the customer to move away from cookie-cutter styles, while providing the option of owning a unique designer piece that contains excellent quality, materials and workmanship. The custom made product gives you an option to participate in the design and manufacturing process and be your own boss.
No more standard sizes for your cabinets – only custom fit for your room's unique shape and size, wood variety to match your taste and budget, choice of natural colors and stain colors to match existing furniture or your dream design. No more limited hardware options when there is an unlimited variety to choose from.
The difference between hand-made quality custom work and pre-manufactured standard pieces can be remarkable. Every custom piece is hand-cut for your particular needs and custom fitted and joined. No more unsightly gaps or odd spaces (as with standard options) for your unique place. This is furniture you will be proud to own and to let others see!
SHOPPING FOR CUSTOM MADE
If you are shopping for custom made, make sure this is what you are going to get! It is not in the words but what is being done for you. It is producing something specific for your design not merely collecting ordinary pre-made pieces to fit into a space. This is where lots of people confuse "custom- made" with the "custom– fit" offers of large department stores. Custom fit is still mediocre pre-made pieces!
Cut out the middleman and unnecessary spending on the expensive designer groups and expensive architects, who will merely copy your design out of different existing foreign manufactured products and will sell them at outrageously marked up prices as custom made .
CUSTOM MADE PRICING
Due to the custom nature of our high quality work, every project will have unique pricing. Pricing will always reflect many factors such as:
Size
Style
Materials
Hardware
Complexity
For example, custom project prices can vary significantly if you choose Ebony wood, Versus Maple wood. Also you have to consider the time to properly design, build and install a custom project.
And most importantly! – Installation is always already included in our price!!! No hidden or unexpected last minute surprise costs – Unlike any other company around! You know exactly what you will pay and what you will get!